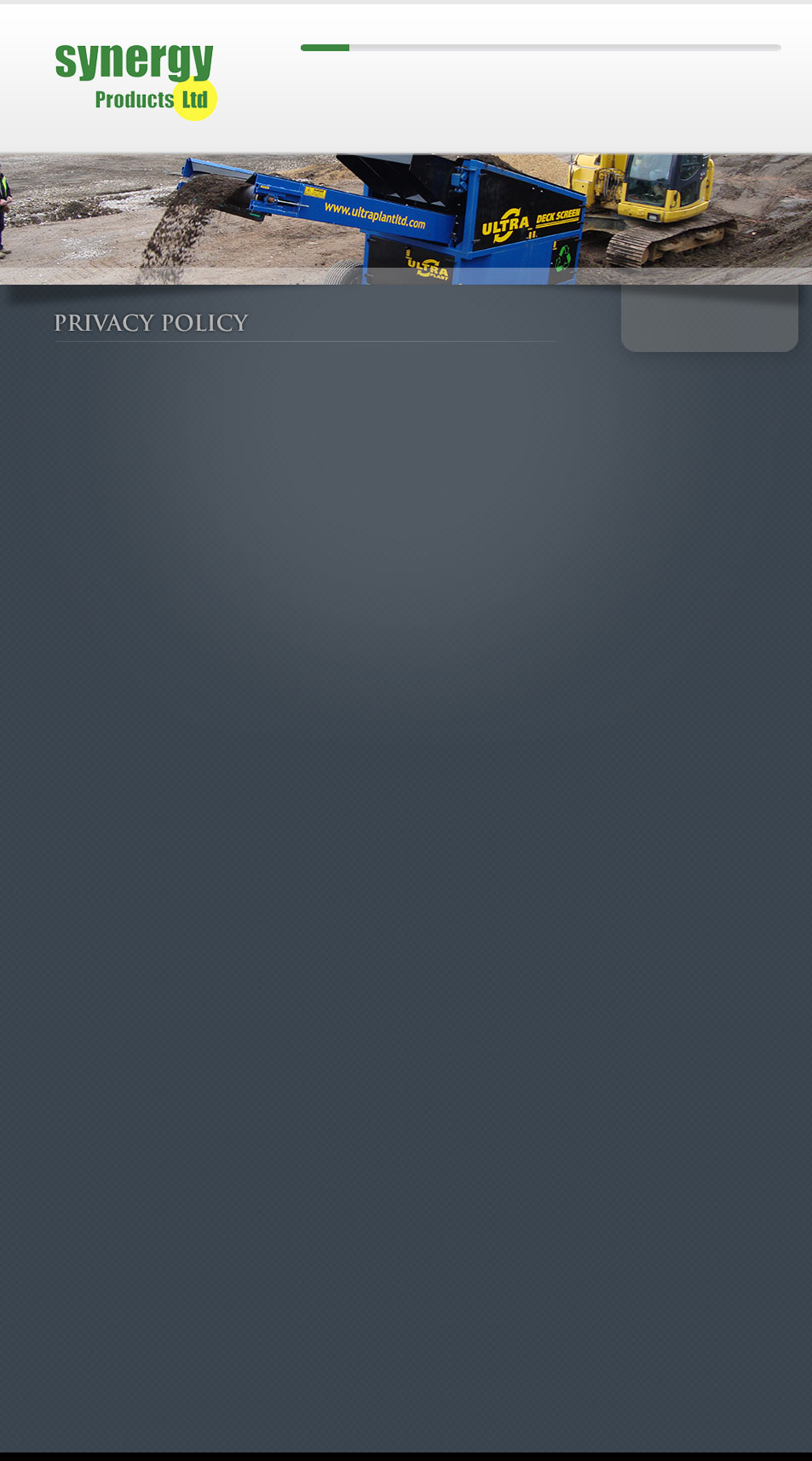 Synergy Products Ltd Privacy Policy
At Synergy Products, we pride ourselves of our after-sales service following the purchase of one of our machines. In order to do this, we do need to keep a record of certain information about you and your purchase.

We treat our customerís personal information and details with the utmost sensitivity and confidentiality. We follow strict security procedures in the storage and disclosure of information, which you have given us, to prevent unauthorised access in accordance with the UK data protection legislation and in particular the General Data Protection Regulations 2018..


What information do we hold

We do not collect sensitive or personally identifiable information about you except when you specifically, knowingly provide it with your consent.


Customer

When you purchase a machine or parts from us, we will ask for your name, address, email and telephone contact details. This is for delivery and invoicing purposes. We will create a customer card for you and list you on a computerized customer database. We will also keep a record on the card of what machine and parts you order.

This information allows us to help advise you when you come to order new parts or have a problem with your machine.For future orders we may create an account for you, so that we can send out goods to you and invoice separately, rather than have to make a pro forma payment.

We will keep your details for as long as you remain a customer. The contact details for bowls, cricket and other sports clubs may include the club address, a delivery (home) address if different and possibly a Treasurerís address for invoicing.The build quality of our machines means that many customers will keep and regularly use their machine for 20+years, requiring regular orders of tines, etc. So keeping customer details for this length of time is normal for us.

We take every step to ensure the information we hold is accurate and up to date. However, we do need your help to ensure we keep our records accurate by notifying us of any changes of club officials, or greenkeepers. From time to time, we will contact you to ensure that the details we hold are up to date. Email contact is now the most cost-effective way of keeping in touch.

Please let us know if you sell the machine,so we can delete all of the records for you including destroying the customer card. We will keep a paper copy of the original invoice and dealer declarations in our archives.


Customer Leads

If you contact us with an enquiry about our products, and we send you a quote, we will keep a copy of the quote on our files for up to 3 years. You will not be put on any computerized database. If after that time, your enquiry did not lead to a purchase, we will delete your details from our computer and any paper copy of a quote. You have the right to ask for your details to be deleted at any time.

We never pass on your information to a third party. All information we hold on our customers or leads, is for the sole use of Synergy Products Ltd. If goods ordered have to be sent out from the factory, then the delivery details will be passed on to them.


Using your data

Your information is used solely by Synergy Products to help support our relationship with you. We may contact you from time to time to let you know of a Winter Servicing Offer, or a new product made by one of the two factories whose products we sell:Groundsman Industries (Turf Aerators and Turf Cutters) and Ultra Plant International (Screeners). We would never send you information about products from any other company, nor will we bombard you with lots of mailings.


Your Rights

Consent
- When you purchase goods from us for the first time, we will tell you that we will be keeping a record of your details and your purchase in the ways we have just described. You, of course, have the right to request that we do not keep your details for future referenceafter your initial purchase.


The Right to see what Data we hold on you

You have the right to an access request to see what information we hold on you. To do this, please contact us on 01380 8721413 or sales@synergyproducts.co.uk


The Right to be Forgotten

As a customer, or a customer lead, you have the right to demand that all information we hold on you is deleted from our computerized database and card index system.

If you wish the club details to remain on our system, but you are no longer the right person for us to contact, please let us know who we should contact instead of you. We will then update our records.

You can do this by contacting us by phone: 07971 843 802 or by email: sales@synergyproducts.co.uk
Please do not hesitate to contact us should you have any queries regarding our Privacy Policy.
David Meharg, Director, Synergy Products Ltd